Sarah Hélène : Out of the closet . (October 2004)


Tootsies : The complete transgender venue .. eat, drink and boogie in style in a safe environment ...


20 - 30 seat restaurant, Bar & Disco


This is a new venture from those lovely caring ladies at Adam & Eve. , Terri, Lisa and Josie.


This is my take on the opening night of Tootsies, 16th October 2004, I went with Cassie and met some others from Cassie's Cassandras Home MSN group, Cassie and I got there about 45 minutes after it "opened" and got tickets numbered 10 & 11, so it was quiet when we arrived, however at least 108 attended, as I know one girl who got that number .. not sure how many more followed Joanne in ...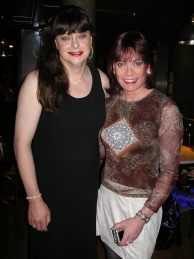 Sarah & Cassie @ Tootsies....

Well Tootsies has landed .. and how, and we have Josie, Lisa and Terri (JLT) of Adam & Eve fame to thank for it .. THANKS GIRLS ...

It's great to have another class venue in London to give us another night out on the town, and one that offers the chance to eat with friends within the venue, though the down point here is that there isn't a no smoking area to eat in. The food was not bad given the price and being in London, however they did suffer some serious delays last night due to one of two cooks being off, but that is just a glitch. Getting a drink at times was also a problem , the bar seemed understaffed at times, and the down stairs bar had a girl behind it when I looked in a couple of times, but didn't serve drinks to anyone.

The music played was a far better mix for us middled age girls than "the typical house/garage/clubmix" what you get pounded with at Transmission, and at a lower more comfortable level, guaranteed not to give you a headache and tinnitus like at Transmission. Kim Angel was scheduled to be DJ'ing there according to www.tootsies.org.uk site, but I didn't see her there, and I know she plays some good stuff too, I heard from her later and she apologised for the non show, she was not a very well bunny that night.

The venue itself appears to be good, spread over two levels, three if you consider the loo's down in the sub basement where the kitchen is, though the architecture is a bit industrial, and I'm not very sure how the ventilation works , as there doesn't appear to be much in the way of aircon and it got too smokey for me downstairs. I for one look forward to smoking being banned at venues like this, I hate stinking like an old ash tray, as I was left last night ... and I don't know why any girl would, but so many inflict their

smelly

habit on us ... but this is a problem at most venues .. except Mayflowers Lyndhurst venue where smoking is banned !!!!!

Parking was easy, well it was when we got there and there is plenty of nearby on street parking on single yellow lines that are "off" at weekends.

The big moan, for a "girlie" venue, is / was a lack of illuminated mirror space, and the quality of the loos themselves, industrial by design, though they were clean when I was there, sub basement ladies had no soap, though the gents did. For a venue that can pack 250 reportedly, the loos for the usually vain T*Girls are a bit of a let down, way short of the " Reading Granby ( sadly now ex Stormes venue)" standard, but something JLT are aware of and will be sorted I am sure. JLT could learn a trick from Transmission here who put a set of temporary well illuminated mirrors out specially for us to use in their basement, that could be done in the "quiet area" behind the disco on the basement floor area at Tootsies too i suspect.

Safety ? Well the venue is safe for us as it's a t*girl venue. The doorman is a real gent, polite humourous and a softy with the girls .. wouldn't like to be on his wrong side though ... The surrounding area is considered safe, though I was unsure about the surroundings outside, and Cassie was a little nervous ( a feeling shared )about getting too close to some of the local's as we drove round the area getting our measure of parking opportunities.

Will I go again ... sure will, hopefully an every month affair, cause knowing the way JLT try to look after their girls ... they'll have the venue management doing things right real soon ...

Thanks again to Josie Lisa and Terri ... I'll be back to Tootsies and to update this page soon ... ( said with an unlike Arnie tone) ... :-)

Notes.

JLT are aware of the issues I have mentioned and are going to deal with them asp.

If you are a "new" girl wanting to get out for the first time, and or need changing facilities, JLT's day business, www.adamandeve121.co.uk , offers facilities on the night, including a diy changing area in their shop about 25 yds down the road for as little as £5, could save you a bundle, on renting a hotel room just to change .. that could pay for another nice frock, bag or pair of killer shoes .... If it is your first night out and want to look a "million dolars", JLT will do you a complete change and makeover service for the night ...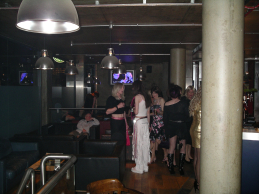 The bar and seating area on ground floor, taken from the eating area, street entrance door behind me.

Click any pic to make it BIGGER


PS .. If you use the link above to look at their site, make sure you use "Internet Explorer" only .. as some of the coding is suspect and some pages won't display properly in other browsers like Netscape, Opera and Firefox.


... back to safe venues and clubs index ...