I feel honoured that they have given me permission to use this image here. For sure you won't often see Dr Suporn without threatre scrubs or his white coat around the clinic or in the hospital while your in his care.

The reason you will be meeting, or have met them, face to face, is because you've chosen Dr Suporn to use his incredible skills to change, in some way and degree, your life for ever.

While Dr Suporn is legend in his own right for the things he does to us, it's Mrs Suporn who manages the clinic itself and the staff that welcomes us into the "clinic family", keeping everything organised so Dr Suporn can do what he does best.

The care and services given to us during the stay here, from collection at the airport till we are delivered back there, are organised by Mrs Suporn and the front and back of house support teams that assist her.

As for Eve, she's adorable, at this point in April 2009 she's "pre school", and if she's around it's an indication that Aoi is too somewhere.

( November 2011 update .. some of the staff below have "moved on", Gift, Cin and Wi )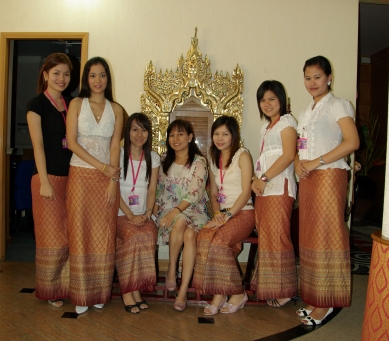 Mrs Suporn and her team of front of house girls, one of them "Bow" is missing here, she was on an airport run with Danny to collect a new patient.


The girls here are wearing the April 2009 "Thai" uniform .. they also have a "Western" uniform too, more formal in a way, I prefer this one, it's so elegant and beautiful .. and this is Thailand.


These are the girls who will do most of the "non medical care", but having said that, it's these who will visit you in your hotel room post surgery everyday to check your "vital signs", count your tablets to make sure your medicating properly and check your surgery sites visually. If you've had AM/BA then they'll do breast massages in your hotel room on their visits, as well as in the clinic.


The days when the clinic is "closed" .. the building might be closed from Saturday lunch time till Monday morning but the care never closes, these girls will always respond to a call to their mobile 24 hours a day, to give advice or arrange a visit from whoever is "on call" that day or night.


Before you move on in this section, the back of house staff and external staff need a mention to. The house keepers keep the place "spic and span", serve you drinks while in reception here and deliver extra bottles of drinking / cleansing water to your hotel room far cheaper than the hotel supply it.


There are other "extra's" too, the people who will wash your clothes, far cheaper than the hotel and the local dress maker who will make you beautiful clothes, traditional or fashion, to your measurements .. she's very good, as I discovered twice.

Click on the group photo above or here to meet the girls individually, and hear there voices.

Dr Suporn is highly qualified, certified and accredited as a plastic surgeon. Click here to see what he proudly displays to everyone in his clinic.