Sarah Hélène : Shopping in Brighton the first time. (8th March 2004)

I DID IT !! Brighton .. solo .. shopping ..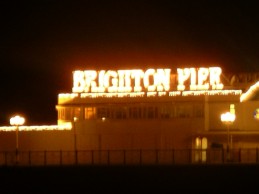 (The Pier , 5x optical + 2 x digital zoom, resting on handrail 7.15pm).

Well that was an afternoon ( left home at 11.15 .. 65 minutes drive) in Brighton doing what we girls do best ...shopping. The first thing I did was head to Lacies shop in Portland Road, Hove. Had a look around and then headed straight for Brighton and the Churchill shopping centre car park.

Felt very self concious as I left the car, heels tapping quietly but seeming to echo around car park. I did all the big shops in the Churchill Square complex, some twice ... across to M&S, down hill to East Street to Long Tall Sally's and numerous stops in the little shops in the "Laines" area, including a fantastic hat shop that can have most of their gorgeous hats made any size, including mine .. so I'd have to go back on another day to sort that out with the owner. I bought a long Denim pencil skirt (£40) in Long Tall Sally, new lipstick (Dior) £16 and good match nail polish ( Estee Lauder) £12 from Debenhams ( takes note : much better stock and service in Oxford Street Branch ) with a lot of help from an assistant who was embarrassed by the lack of stock she had. Another big hair clip in Claire's Accessories £3.50, caused Karen ( my wife ) to cringe and moan as she had bought the exact same clip for my birthday the next week ..., pair of rings in M&S £6, various catalogues for larger size shoes from Barrats and Faith, though neither had any stock my size that day. Tried things on in several shops Barrats, Evans ... must do Monsoon next time. No hassle anywhere, if any of the assistants read me or my voice they didn't react at all ... I was trying with the voice ... well I just looked like me ..
I left Brighton at 7.45 having chickened out going into a restaurant / bar near the front on my own, it was full of groups of 2 or more. I walked so far that day that I actually had to go have my 2" kitten heel shoes reheeled.



Me back home ... minus coat and bags.

The feeling was great ... gosh I wish I could have done it again the next day .. except Karen would have murdered me or cut up my credit card ... booo hoooo ...

Just wish I could have had a friend or 2 in tow .. to have a giggle with, to take pics ( that is a problem when solo ), have coffee and eat together ... bit lonely on ones own, so much so I didn't get to eat till I got home, visiting chinese takeaway in Trumps Green on way though from M25, not sure if the lady in the chinese read and/or recognised me, as I am a weekly visitor to the Fish and chip side of the shop, but it was "can I help you madam" and all smiles.

The acceptance I felt was total ... even when a group of school girls entered the ladies loos in the Churchill shopping complex while I was in a cubicle and who seemed to be camping there doing each others makeup. I was a bit worried at this point because of haveing read reports from other people about how vocal young girls in groups can be if they read somebody. I couldn't stay any longer, I had to leave the cubicle, they looked at me then ignored me as I washed my hands and checked my face . The things teenage girls talk about in the loo .... I was shocked truly, far worse than boys I'm sure ... LOL ...

... back to Trips out index ...