Sarah Hélène : London Oxford Street shopping and lunch with a friend.
(19th March 2004)

Looking a little worried at Sunningdale Station ... well this is getting serious

I went to London solo shopping and chose to go by train. Now this is serious out and about because I was cutting myself off from any easy escape should I get spooked. I took the 11.13 train from Sunningdale to Waterloo and tube to Bond Street, a nice guy on the tube stood aside to give me access to a seat rather than jump in it himself ..... what a feeling inside ...

A girl I work with who sussed me out a while back, and having seen pics of me wanted to meet me. So I met her for a lunch time coffee in Starbucks in Selfridges. We met in the street outside, greeted each other girlie style and she said she was "amazed" and would never have guessed if we'd passed each other if she hadn't seen pictures of me beforehand.

I must say girls .. the ladies loos in the basement of Selfridges are the greatest. Well my friend "Zero" went off back to work after coffee, and I went to Long Tall Sally in Chiltern street via the Elephant Feet, Crispins and Magnus shoe shops in the same road. I bought a top and skirt in LTS, but the skirt had to be got in for me, so it was a return trip drab the following week to collect. It was the first time in there dressed, as I normally shop in there drab mode as it's fairly close to where I work. Tried a few things on before settling for a plum needle cord long skirt, and a plum print on cream long sleeve top, printed with flowers and butterflies, with gold glitter patches on the butterfly wings ... very pretty ..

Back to Oxford Street, starting at Evan's Marble Arch store and working along. Tried things on in several shops, bought a nice pair of pink 3.25" stiletto courts from Barratts, took advantage of House of Fraser's special Dior offer ( buy 2 items and get a big freebie pack in a gorgeous dior makeup bag ). Went to Dorothy Perkins and found they were doing a gorgeous pink suit in their tall collection, and had to buy it, all three pieces. Pink trouser suits seemed to be the IN thing at that time, so many shops were doing them, tried one in Wallis, but jacket sleeves to short, same for trouser legs though girls do wear trousers at all heights. In and out of many shops, Next , Monsoon, River Island, Debenhams, House of Fraser, Selfridges, John Lewis, Laura Ashley to name a few. 5 hours just disappeared.

Well I know I look a bit different when dressed and made up, as I crossed a side street near Oxford Street I nearly walked into another work colleague, a tall Scandinavian blonde girl, who did look at me but nothing at all .. just blank .. so I guess she didn't recognize me, or was struck with fear of what she had seen !!!!!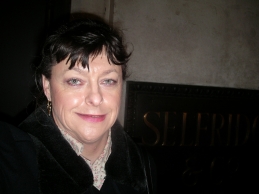 In the above picture .. my makeup had started to suffer ... and this is one of the problems with self portraits when out and about in crowds ...

Back on tube to Waterloo, standing only on Tube , no kind men this time. Eventually got back home at 9.30pm ... that smile will took days to wear off ........

... back to Trips out index ...