Sarah's Chonburi Pictures 26th January 2008.


OK folks .. you'll need to use your "back button" to return to this page if you decide to click the thumb nails.


Well it's a bit of a long story as to why I'm now in a different room ( 702 ) and having to live off room service for at least the weekend. To be honest I was in no fit state after last night to do much more, so it was a case of following the Thai GP's instructions of drinking loads of water, stay as immobile as possible and live on room service.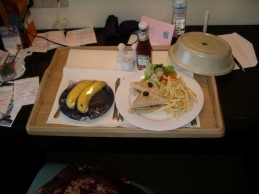 So here is Saturday lunch delivered by room service. The Mercure Hotel room service menu isn't brilliant, if you can't eat fish but I could find things to eat. I really wasn't hungry, so I ordered a toasted cheese and ham sandwich .. and a banana. Well you can see what arrived .. fries and salad with the sandwich, and two banana's.









Pictures .... day 16....
Return to Chon Buri picture Index.....
Return to Diary Index .