Sarah's Chonburi Pictures 12th February 2008.


OK folks .. you'll need to use your "back button" to return to this page if you decide to click the thumb nails.


It's Monday .. and this afternoon Christine, my artist friend from Whitby is arriving from England, I've arranged a surprise for her with the clinic .. I'm going with Kun ( the clinic girl ) and the driver to collect her.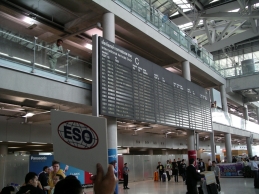 This is the massive arrivals board just by exit / entrance number 9, the usual meeting place for new arrivals to head to to find the clinic staff holding the sign with your name on.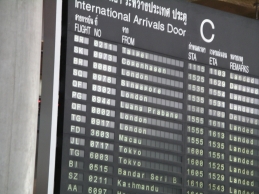 OK, in the big picture you can read the writing, third line from top BR0068 London. The delay in arrival time is pretty typical, it seems a fair number of flights arrive late from London, only because of delays getting off the ground at Heathrow.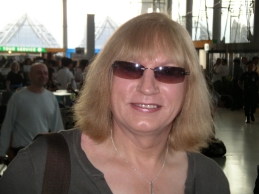 Christine looks a little nervous, she was surprised to find me hiding behind the clinic sign board when Kun lowered it, she did get some sleep on the plane apparently .. but it's a long flight. Kun had been holding the clinic sign over her head, just right to blot my head and shoulders out. Check out the diary page for today for more of a low down on the day.







Pictures .... day 32....
Return to Chon Buri picture Index.....
Return to Diary Index .