Sarah's Chonburi Pictures 14th January 2008.


OK folks .. you'll need to use your "back button" to return to this page if you decide to click on the thumb nails to get the bigger picture.


My second full day in Thailand, I had a 15.00 appointment at the clinic to see Dr Suporn, so I had to go out anyway. I also needed to get some essential supplies in too. So here's a few shots of around town, well the nearest couple of blocks to the hotel and Dr Suporn's clinic building.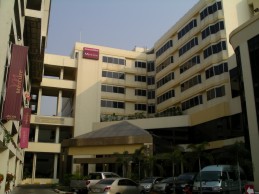 The outside of the hotel as seen with my camera.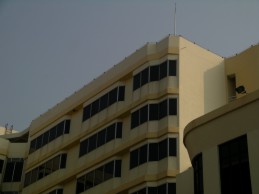 The top right hand set of windows is room 701, an end of corridor room, which is bigger than the neighbouring 702, note the extra windows. 701 had 5 sections of glass, room 702 has only the first 3 sections of glass of the next set to the left. The two tall sections on the left of that floor is the 7th floor lift lobby / lounge / coffee / DVD library.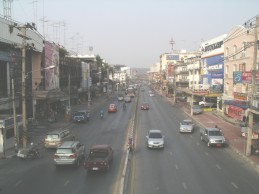 Main street Chon Buri .. or the Sukhumvit Road. Nobody crosses that road, you use the bridges which are quite a long way apart, or you don't cross at all. Dr Suporn's clinic is on the first full building you can see to the left of the power pole on the right hand side of the frame.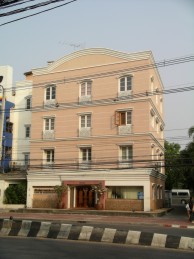 Dr Suporn's clinic building taken from across the road. Overhead power lines are everywhere so it's impossible to get photographs in town with out showing the mess.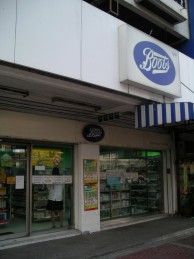 Lot's of familiar names in Chon Buri .. like Boot's the chemist .. though they don't seem to have a pharmacy like most UK branches have.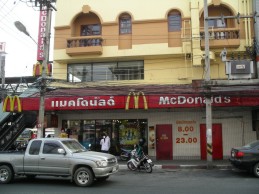 Yes there's even a MacDonald's .. I'll have to go and retake this shot, just hidden by the 4 x 4 pickup is Ronald .. but unlike in Europe and else where .. he's doing a "wâi" .. the prayer like gesture of two hands in front of the chin made by Thais when greeting people.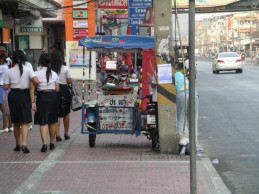 The Thais adapt their motorbikes to do all sorts of things .. this one is the local tailor / clothes repairer. He's got a sewing machine there and a large collection of threads and buttons.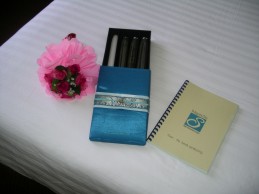 I left the clinic after my appointment with Dr Suporn with these three items, a posse of roses, my set of 4 Thai boyfriends that Dr Suporn and his staff call the dilators, and part 1 as I later found out of the Dr Suporn clinic manual. Personalised all about my surgery, a simple translation dictionary / phrase book for use in the hospital and basic post op care. The big view is doctored .. to remove my sir name which was readable.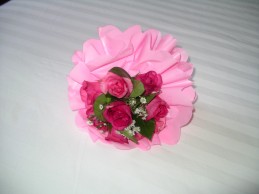 Sadly these flowers where all ready dying when I received them, but the gesture was appreciated.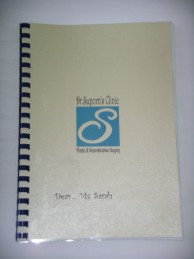 My "Haynes" manual part one for my procedure in the hospital and the immediate after-care. It also contained a little phrase section at the back with simple things like "I have a lot of pain" with instant Thai translation against it .. point to the book if you've got a nurse who doesn't understand English, but most understood enough anyway.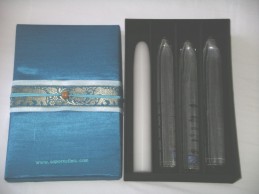 My set of Thai boyfriends .. 3 different sizes in clear plastic which are breakable, and the white one is the same size as the middle clear one, just that this is referred to as the "travel dilator" as it's apparently unbreakable.








Pictures .... day 4....
Return to Chon Buri picture Index.....
Return to current diary page block.....
Return to Diary Index .