Sarah's Chonburi Pictures 11th February 2008.


OK folks .. you'll need to use your "back button" to return to this page if you decide to click the thumb nails.


Another quiet day, well it's Sunday, the clinic is closed and it's getting close to my leaving in just 5 days, and as yet I hadn't taken any pictures of the hotel floor I was staying on. This is the 7th floor, or "de-luxe" floor as it's described on reception and in the lifts. The extra money you pay gets certain extras .. big screen TV's and DVD players in the rooms, wireless broadband in the rooms and here in the lift lobby / communal meeting / relaxing free coffee and fruit area.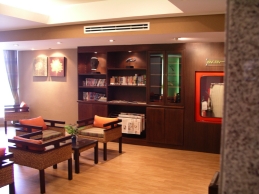 View one, looking across the front of the lifts on the right of the shot ( behind the marble pillar ) .. looking across to the newspapers and DVD wall. The DVD's are collected from the main reception and are free.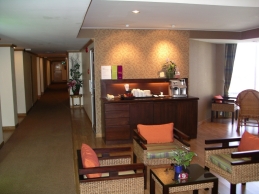 View two, panned round to the right looking down the corridor towards my room .. 701 and 702 are at the far end on the right hand side overlooking the front of the hotel, away from the clinic. The desk sort of thing is where the free coffee is and where they place the large bowl of fruit everyday about 3pm. While I was there nobody really used this area, the night of my poisoning I managed to stagger down here, and it's where Alaina found me semi concious.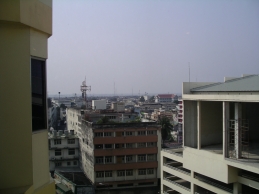 View three, taken from the near floor to ceiling window seen in the left of view one and right of view 2. This was a wide angle shot, room 705's window on the left, car park on the right and over the town in the distance is the sea.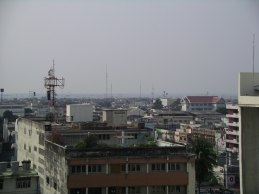 View four, same as three above really but this time on maximum optical zoom on my little Pentax. In the big frame you can see the sea in the distance.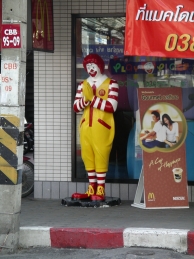 Ok .. this isn't in the hotel, I went for a walk round to the Tops supermarket which meant going past MacDonald's, so as I'd messed up the earlier shot of Ronald doing a "wai" I thought I'd better put that situation right .. he's so polite and proper here isn't he.










Pictures .... day 31....
Return to Chon Buri picture Index.....
Return to Diary Index .